Sign up as a Citizen Journalist and get involved in Information Activism.
Sign Up for Watchdog Updates!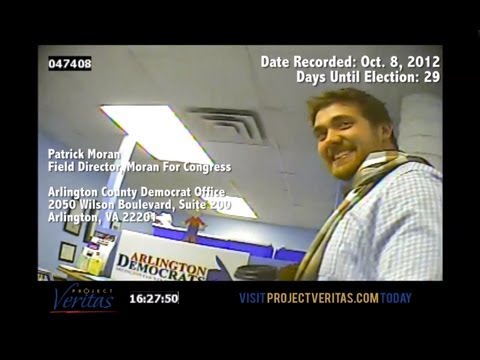 UPDATE, 5:30 PM: Patrick Moran has resigned as field director of his father's campaign.
ARLINGTON, Va.–Patrick Moran, son of and field director for longtime U.S. Rep. Jim Moran (D-VA), told a videographer how to forge utility bills and impersonate a pollster after that man expressed interest in voting on behalf of as many as 100 people. Moran called the large-scale voter fraud initiative "hardcore" and invited the videographer into the Arlington County Democratic Committee headquarters, where the two continued a discussion on how to best cast 100 fraudulent ballots.
Will Swaim of Watchdog.org reported on this case earlier today, and suggested that this video may be just the tip of an iceberg of controversy surrounding the Morans. There appears to be a strong list of connections between Patrick's previous employers and Jim's largest campaign donors.
Kenric Ward of Virginia Watchdog also has more on Rep. Moran's controversial history, and the odors of corruption that have plagued him throughout his career.
This story broke less than 24 hours after Jim Moran joined the other two Democrats in Virginia's House delegation in asking the Justice Department to investigate a Republican-aligned consulting firm for possible voter registration fraud.
The videographer in this case was a volunteer for Project Veritas, a watchdog group founded by James O'Keefe that has specialized in uncovering voter fraud. Posing as a 23-year-old Democrat concerned about what may happen to his girlfriend's birth control if President Obama loses re-election, the volunteer presented a drastic and clearly illegal plan to the nonchalant Patrick Moran, who listened intently, and offered advice after a few minutes of hesitation.
Moran's initial reticence, however, had nothing to do with the illegality of the proposed operation. Rather, he wondered aloud whether this was the best use of the videographer's time (as casting 100 fraudulent votes requires quite a bit of driving on election day), and was also concerned about Virginia's new Voter ID laws, designed to inhibit this type of activity. The law requires each voter to present proof of residence, such as a driver's licence or utility bill.
"So it's going to be, with the new voter ID laws, he'll have to have….utility bills or something like that. He'll need something with the name and their address on it," Moran said, assuming the videographer would use a third party to physically commit the voter fraud.
He continued, "A bank statement would be tough. But, they can fake a utility bill with ease, you know?"
Later in the conversation, after Moran seemed to have warmed up to the videographer's plan, he went back to the same idea. "Look at the law. But it has to be like a utility bill or something like that. So you have to–you have to, you know, forge it."
Moran seemed prepared for the possibility that poll workers could question the videographer's forged bills, but he had a plan in place: lawyers for the DNC and Obama campaign will be present at the polls, and would step in and defend the videographer if poll workers questioned the validity of his "utility bills." "But," as Moran adivsed, "it has to look good."
Finally, there's the possibility that the 100 people in whose names the videographer plans to vote will actually turn out to vote themselves, although the videographer described them as "inactive voters." Moran advised the videographer to make a canvassing call, or impersonate a pollster, in order to directly ask these people whether they will vote or not.
Canvassing is a common campaign activity, which involves contacting citizens directly to learn if, and for whom, they plan to vote. It is unclear whether Moran authorized the videographer to conduct his fraudulent canvassing calls on behalf of his father's campaign.
O'Keefe's volunteer shot the video footage in Arlington on October 8. Project Veritas posted the video to YouTube earlier today.
Moran's actions, and the videographer's proposed operation, appear to violate the Virginia Election Code, as well as federal laws which prohibit voting in another's place, presenting false information at polling places, and double voting.
A call to Rep. Moran's office was redirected to his campaign office without comment. Calls to the Moran campaign office, the Arlington County Democratic Committee, and Mary Moran, the Congressman's campaign manager, were not returned.
RELATED ARTICLES
COMMENTS