We've moved! Come join us at
Watchdog Arena
, where you'll continue to find the same quality articles that expose waste, fraud and abuse as well as examine policy issues at all levels of government.
Please visit our new home and follow us on social media:
Facebook
&
Twitter
Come join us at Watchdog Arena!
Sign Up for Watchdog Updates!
Gary Oborny of Wichita appeared on Fox News in August to explain problems with onerous government regulations. This week he will ask the Wichita City Council to use laws and regulations to grant him millions of tax dollars. For more, see Union Station TIF provides lessons for Wichita voters.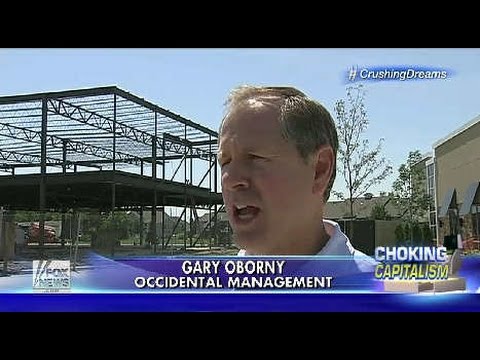 ###

Next week a Wichita real estate developer will ask the Wichita City Council to approve a package of incentives for the redevelopment of Union Station in downtown Wichita. The proposal contains many facets that citizens need to understand. Additionally, the city's handling of this matter is something that voters will want to keep in mind as they make their decision on the proposed Wichita sales tax in November.
The city's documents on this matter are available at Resolution Considering the Establishment of the Union Station Redevelopment District (Tax Increment Financing).
Union Station LLC is asking for TIF, or tax increment financing. TIF most often works like this: A city borrows money (by issuing bonds) and gives the cash to a development. After the project is built and has a higher assessed value, the city uses the increased property tax payments (the "increment" in TIF) from the development to pay off the bonds. This obviously is risky for cities, because if the development doesn't generate sufficient increment in tax payments to cover the bond payments, the city will have to make up the difference. This has happened in Wichita.
Read the complete story at Watchdog Wire
Featured image from Shutterstock
RELATED ARTICLES
COMMENTS