We've moved! Come join us at
Watchdog Arena
, where you'll continue to find the same quality articles that expose waste, fraud and abuse as well as examine policy issues at all levels of government.
Please visit our new home and follow us on social media:
Facebook
&
Twitter
Come join us at Watchdog Arena!
Sign Up for Watchdog Updates!
As Wichita voters prepare to decide on the proposed one cent per dollar sales tax, a recent survey found that few voters believe the city spends efficiently.
In April Kansas Policy Institute commissioned SurveyUSA to conduct a scientific poll concerning current topics in Wichita. The press release from KPI, along with a link to the complete survey results, is available at Poll: Wichitans don't want sales tax increase.
The first question the survey asked was "In the past few years, have Wichita city officials used taxpayer money efficiently? Or inefficiently?" Below are the full results, followed by further division of the surveyed into political categories.
Overall, 58 percent believe city spending was inefficient, compared to the 28 percent who believe the city spends money efficiently.
The results are surprisingly consistent. Independents were strongest among those surveyed in believing the city's spending was inefficient when respondents were divided by party affiliation. When respondents were divided by ideological affiliation, liberals were strongest in believing that city spending was inefficient.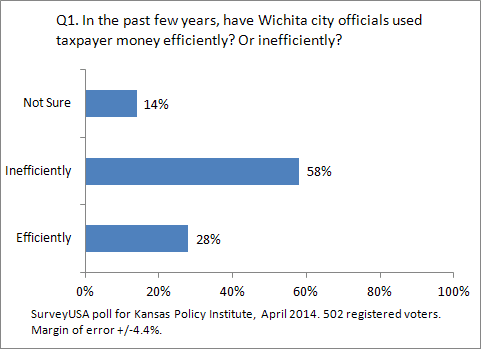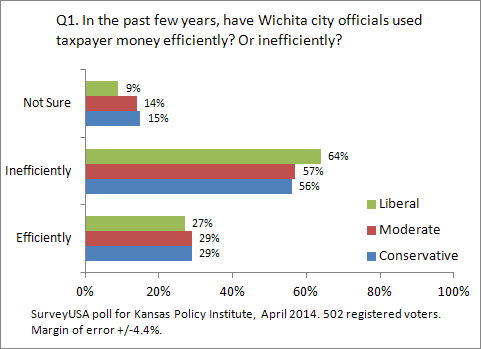 RELATED ARTICLES
COMMENTS