We've moved! Come join us at
Watchdog Arena
, where you'll continue to find the same quality articles that expose waste, fraud and abuse as well as examine policy issues at all levels of government.
Please visit our new home and follow us on social media:
Facebook
&
Twitter
Sign up as a Citizen Journalist and get involved in Information Activism.
Sign Up for Watchdog Updates!
Every parent gives their children playful nicknames: princess, bug, buddy, and "little man," but "human capital?"  That's how the Colorado Department of Education (CDE) and some of their partners refer to children and their personal data. CDE is set on building these "human capital pipelines" that are ripe for the data harvesting.
BACKGROUND
Historically, parents have volunteered information to schools with little thought.  Upon enrollment, it is not unusual to provide a student's Social Security number, birth certificate, or immunization records to schools. Now, schools take the data through surveys, test forms, classwork, and enrollment documents.  What isn't volunteered by parents is later assumed or subtly attained, often without parental knowledge or consent.
Under CDE guidance, Colorado has been remarkable in its implementation of education reforms driven by the controversial competitive grant program, Race to the Top. This program calls on states to implement four pillars of education reform, including "Enhanced State Longitudinal Database Systems (SLDS)." 
WHAT DATA IS COLLECTED?
The enhanced database systems should address 12 specific points as outlined by the United States Department of Education (USED). But the first point guarantees "a unique identifier for every student that does not permit a student to be individually identified (except as permitted by federal and state law)."  The "as permitted by federal and state law" is a large concession, since the Family Educational Rights and Privacy Act (FERPA) was amended in 2011.  According to CDE's privacy policies, student-level data may be shared for education studies where personally identifiable student information may be disclosed to organizations conducting studies for, or on behalf of, CDE.
Educational studies and compliance activities are all outsourced by CDE. Once student-level data belongs to a third party, there are no protections on it.  More alarming is that data is being given away without parental knowledge or consent.
Some school districts like Jefferson County, home to over 85,000 students, issue a "Make Your Voice Heard" survey every two years. The survey is so invasive that it asks about guns in the home, religious practices, political affiliations, parents' occupations and work schedules, if parents argue or get physical, student sexual behavior and attitudes, and what activities the student engages in after school. When one parent requested her son's 2012 survey questions and answers, district officials refused to release them, in direct violation of  The Family Educational Rights and Privacy Act" (FERPA)  and of Colorado Open Records law.
The Thompson School District is conducting an "educational study" called the Common Assignment. The study requires video recording of students in class. According to the opt-out form sent to parents, the study is funded by the Bill and Melinda Gates Foundation, which will retain Loveland students' recorded data. The Gates Family Foundation's $38 Billion empire is vast and wide, but not in comparison to potential revenues.
On its own, the establishment of 12 data collection guidelines doesn't seem too invasive, but it is actually much greater than that. Common Education Data Standards guidance includes 72 pages of data points that will offer a comprehensive personal profile of students including family income, income sources, birth-weight, gestational weeks, race, preschool enrollment, and government program participation. Demographic characteristics also incorporate the collection of data around disciplinary records and disability information. These records will be cumulative from cradle-career.
Students with anger issues during their parents' divorce in second grade will be carrying that stigma beyond high school. Students who manage and overcome ADHD will not actually be free of the condition, especially in the eyes of college admissions personnel who now will have automatic access to this information.
Data is even being collected on early learners, or preschoolers. Right now, because of the Race to the Top Early Learning Challenge, states including Colorado are collecting information on our smallest students.
While data is collected for the SLDS at all grades, additional preschool data is only collected on families that participate in publicly-funded programs such as WIC, Head Start, or Colorado Connect for Health – Colorado's Obamacare Exchange. TS Gold and similar programs will continue to expand, but for now the government can only use underprivileged children as test subjects, exploiting income inequality.
THE DECEIT
CDE Chief Information Officer Dan Domagala was recorded on video presenting the "golden record" of each child's data. In his presentation, at minute 9:40, he points to a slide showing CDE "connecting  information in a longitudinal format" with other state agencies, including Human Services and Corrections.  It is documented that CDE shares student data with Colorado's Department of Human Services, Department of Corrections, and Higher Education entities.  Sources say that other videos with this presentation have been scrubbed of Domagala disclosing that student information will be shared with other state agencies.
Domagala testified last week before the Colorado House Education Committee on the Student Data Privacy Act (HB14-1294). He claimed CDE does NOT collect student identifiable data. Members of the House Education Committee questioned him and reminded him that they were just handed an eight-page printout from CDE's website by a Colorado mom that outlined CDE's own policy on sharing personally identifiable information. Why would CDE have a policy on sharing identifiable data if they did not have such data?
The CDE policy document is now just over six pages and appears to have since been altered, but still contains policy verbiage on identifiable student data; another version is available on Core Concerns website.  Members from United Opt Out managed to preserve a copy of the Domagala video before it was scrubbed from over a dozen sites on the Internet: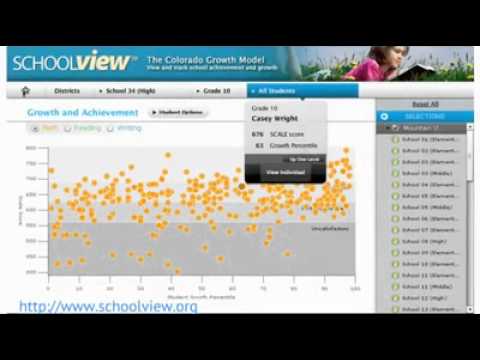 WHAT NEXT?
Student data collection is far from secure and represents a shift in roles. Students are increasingly being treated like factory labor inputs under constant surveillance to ensure the school is putting out the best product.  In this model, schools are not serving students; rather, the students are serving the schools as human capital.
CDE has refused to provide a list of contracted vendors and which ones share or distribute data.  What specific "monitoring tools" has CDE budgeted for as per Mr. Domagala's testimony last week, and what monitoring is in place now? Will parents be made aware of monitoring and will CDE ever require parental consent? Inquiring moms want to know.
Hollywood scripts seem to be coming to life in the form of Gattaca, where one's life is determined by predetermining genetic traits rather than education or experience. In the video below, White House data-palooza Jose Ferreira, CEO of Knewton, proudly boasts about similarities to the 2002 blockbuster Minority Report, in which a special police unit is able to arrest criminals before they commit a crime:
Colorado Moms plan on gathering on the west steps of the State Capitol on April 5 at noon as part of a National Day of Protest against Common Core.
Categories:
Education
,
Must Read
Tags:
Bill and Melinda Gates Foundation
,
CDE
,
Colorado Department of Education
,
Common Core
,
Data Mining
,
Data Privacy
,
Data Security
,
Gates Family Foundation
,
Gattaca
,
Golden Record
,
Jefferson County Public Schools
,
Jose Ferreira
,
Knewton
,
Minority Report
,
Race To The Top
,
SLDS
,
Statewide Longitudinal Database System
,
Thompson School District
,
TS Gold
RELATED ARTICLES
COMMENTS