We've moved! Come join us at
Watchdog Arena
, where you'll continue to find the same quality articles that expose waste, fraud and abuse as well as examine policy issues at all levels of government.
Please visit our new home and follow us on social media:
Facebook
&
Twitter
Sign up as a Citizen Journalist and get involved in Information Activism.
Sign Up for Watchdog Updates!
At the stroke of midnight the presiding officers of the Maryland General Assembly declared sine die, and gaveled to a close the 2013 legislative session.   With that they ended perhaps one of the most damaging legislative sessions for Marylanders personal and economic freedoms.
Unlike 2012 when the session ended in disarray, without a budget, leading to two special sessions to increase taxes and approve send a constitutional amendment to the voters to expand gambling, the 2013 session ended with the General Assembly approving O'Malley's legislative priorities.
Here is a run down of what happened during the 2013 session.
O'Malley's Gun Grab
The legislature approved Governor Martin O'Malleys sweeping gun control plan, devised in the wake of the Sandy Hook Elementary school massacre in Newtown, CT.  The law calls for potential gun purchasers to be fingerprinted, bans so called "assault weapons", limits magazine that hold more than 10 rounds and restricts the purchase of firearms by the mentally ill.  Thousands of second amendment rights advocates descended upon Annapolis to protest and testify against the bill, but to no avail.  Opponents like Delegate Mike Smigiel (R-Cecil County) argue that O'Malley's scheme targets lawful gun owners rather than criminals.  During a joint House committee vote on the bill, Smigiel introduced what appeared to be a successful amendment that would have eliminated diminution (good time credits) for felons convicted of committing a violent crime with a firearm.  Yet through legislative legerdemain by the Democratic majority that amendment was overturned and killed.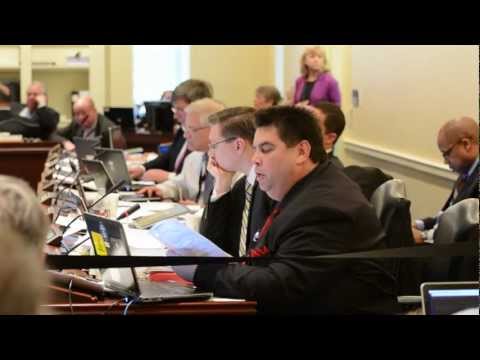 Opponents are expected to challenge the law in court, and take it to the voters through referendum in 2014.
Gas Tax
Warning that Maryland suffers from a dearth of transportation funds to pay for congestion relief, infrastructure maintenance, and mass transit projects, O'Malley introduced, and the legislature approved a massive 87 percent gas tax increase to generate new transportation funds.
The new tax indexes the per-gallon excise tax to inflation, implements a wholesale level tax on gasoline, phased in over three years.  The plan is expected to generate billions in new transportation revenues.  However, there is no guarantee that the lockbox provisions in the bill will ensure those funds will not be raided for other purposes.  Next year, voters will have the opportunity to approve a constitutional amendment that requires a three-fifths majority vote in both houses to approve raids on the Transportation Trust Fund if the governor declares an emergency. The vast majority of legislators–more than three-fifths majority in both houses–who voted for the gas tax increase also voted to raid $816 million in transportation funds, which have not been repaid.
Nor are Maryland motorists guaranteed that the new funds will be spent on congestion relief or road maintenance as 54 percent of transportation dollars to fund mass transit, which is used by less than five percent of all travel in the state.
The Budget
Passing a balanced budget is the only constitutionally required duty of the legislature.  This year, as they do every year, the General Assembly passed a balanced budget, which of course leaves future budgets unbalanced and with a structural deficit.  After the legislature trimmed (mostly from Medicaid over budgeting) the FY 2014 budget comes in a $36.9 billion dollars, up $1.4 billion from last year, an increase of nearly 4 percent.  Over the last several years O'Malley has falsely claimed he cut $8.3 billion in spending. He repeated that lie to WBAL News yesterday. O'Malley's claim lies in the deception of counting reductions to the overall increase in spending as "cuts." However, the numbers are clear as this table from the non-partisan Department of Legislative Services shows that between 2008-2013 overall spending has increased under O'Malley by $6 billion or 20 percent.  Add in FY 2014 spending that number rises to $7 billion, a 25 percent increase.
To pay for this increased spending O'Malley and the legislature have enacted 37 tax/fee increases totaling $3.1 billion annually.
A recent Washington Post Poll found that a majority of Marylanders disapproved of O'Malley's job performance on the state, budget, taxes, and the economy.
Death Penalty
Despite public opinion favoring the state retaining the death penalty, O'Malley achieved his long time goal of abolishing the death penalty in Maryland.  Since the last state execution there has been a de facto moratorium on use of the death penalty.  The new law does not apply to the five prisoners currently on Death Row.  O'Malley could commute their sentences to life without parole.
Offshore Wind
After two failed attempts, O'Malley rammed through his plan to make Maryland electric ratepayers subsidize billions in costs for offshore wind turbines.  O'Malley's plan was aided by Senate President Thomas V. Mike Miller's removal of Senator Anthony Muse from the Senate Finance Committee.  Muse was a key vote in opposition to the plan.  Then O'Malley himself sweetened the pot for minority legislators with millions in state grants to minority contractors to compete for offshore wind energy contracts.
However, with the federal wind subsidy in limbo there is no guarantee that O'Malley's offshore wind farm will be built.   Government subsidies mask the true cost of wind projects and accounts for more than half the wholesale price of wind generated electricity.
Delaware's offshore wind project is on hold because the energy company could not secure financing.
Beginning in 2017, the law will tack on a fee to every Maryland electric utility customer.  O'Malley first campaigned on a platform to roll back a 72 percent electric rate hike.  Since he took office in 2008 electric rates have increased 54 percent.
Public Private Partnerships
The legislature passed a bill that streamlines the process for private firms to participate in public infrastructure projects and other construction projects.  While in theory this may lead to lower costs to the taxpayer, the O'Malley administration is prone to cronyism, and these P3s are they are called end up in private gain at the public expense.  The best example is the State Center boondoggle where O'Malley approved a public private partnership for to redevelop the State Center property in downtown Baltimore.  The private sector partners were either O'Malley cronies or campaign contributors.  O'Malley's approval of the plan violated state procurement laws.
Campaign Finance Reform
Legislators closed the "LLC loophole" a gap in state campaign finance laws, which allowed one person who controlled multiple companies to circumvent limits on political contributions.  The law also increased the limit on contributions to individual candidate from $4,000 to $6,000 per four-year cycle, and increased the aggregate limit to $24,000 per four-year cycle.
Medical Marijuana
Passed in the waning hours of the session, the legislature sent to O'Malley a bill that would allow academic medical centers to dispense small amounts of marijuana to patients, and monitor them.  It is uncertain if O'Malley will sign the bill.
Storm Water Management Fees (Rain Tax)
A bill that would have delayed implementation of a $6.2 billion (341. million annually) tax on property owners to pay for EPA mandated storm water management fees, was defeated.
Speed Cameras
A weak bill to reform abuses in Maryland's troubled speed camera program died in the last hours of the session.  The bill died due to a Republican filibuster in the Senate.  Republicans objected to the speed cameras in general and wanted the program repealed entirely.  The bill would have altered the way local governments contract with camera vendors prohibiting paying the vendor for every ticket issued the so called "bounty system." The bill also placed more limits on where cameras could be placed. Maryland's chief speed camera vendor Xerox State and Local Solutions has come under fire over the last year due to serious errors including ticketing a stopped car.  Xerox State and Local Solutions has close political ties to Governor O'Malley.
Categories:
Budget and Finance
,
Business Climate
,
Cronyism
,
Energy
,
Must Read
,
Policy
,
Regulation
,
Second Amendment
,
Taxes
Tags:
budget
,
gas tax
,
Martin O'Malley
,
Maryland General Assembly
,
medical marijuana
,
offshore wind
,
second amendment
,
speed cameras
,
spending
,
taxes
,
transportation
RELATED ARTICLES
COMMENTS