We've moved! Come join us at
Watchdog Arena
, where you'll continue to find the same quality articles that expose waste, fraud and abuse as well as examine policy issues at all levels of government.
Please visit our new home and follow us on social media:
Facebook
&
Twitter
Sign up as a Citizen Journalist and get involved in Information Activism.
Sign Up for Watchdog Updates!
A few weeks ago my stepdaughter Molly came home from Northern Michigan University for a weekend to visit. I had given her a Starbucks gift card to celebrate her October birthday. Struggling college students need their caffeine, and I know she loves Starbucks coffee. In return she brought me an interesting article from Northern's campus paper, The North Wind.
"NMU Signed Secret Starbucks Deal." That's a pretty impressive headline. I read the article and immediately felt like a shot of espresso hit my brain.
The article was written by The North Wind staff, and it is easy to see that a lot people worked very hard to pull together this true 'watchdog' piece.
It has all the elements of good watchdog journalism:  a scorching hot story, FOIA requests (and FOIA response stonewalling), a potential illegal act committed on the part of the university (to which the university has neither officially admitted to or denied), the "shocked face" of the school's administration that this could even be an issue (or maybe that they got caught), and the "no comment" at the end by Starbucks, a corporation worth billions of dollars.
I contacted Katie Bultman, editor-in-chief for the campus newspaper, to inquire more about why the staff decided to take on this story. Katie told me the story came to the paper's attention because students were hearing rumors that Stone Creek Coffee, the only other competitor to Starbucks on campus, would not return this year to its old space, and may not be returning at all.
As of this date, there is still no Stone Creek Coffee shop available to students, although the brand is offered at other university outlets.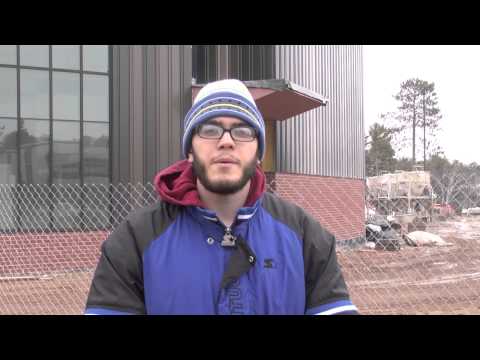 Katie went on to tell me that Starbucks is not new to the NMU campus. The first contract that The North Wind staff received through a FOIA request was from 2003. This was not a contract "renewal," as many of the terms of it had changed, including the confidentiality clause that The North Wind and its legal advisers suggest is illegal for the university to have signed in the first place.
The article states that the university claimed it was prohibited by a confidentiality clause in the agreement from producing it in compliance with The North Wind's FOIA request. That is not a "legitimate exemption in the state open records law and that the university is prohibited by state law from entering into any secret agreement with any company," the article says.
In addition, Adam Marshall, legal consultant for the paper, said, "The Michigan Supreme Court has ruled that a public body may not contract away its obligations under the FOIA laws. That contract wouldn't be allowed."
In October 2013, NMU entered into the second 10-year contract with Starbucks. According to the article, the contract includes that the university "required a non-compete clause, restricting other vendors from selling coffee. The university is also required to pay a $30,000 one-time licensing fee, a monthly royalty equal to seven percent of gross revenues, a monthly advertising fee equal to one percent of gross revenues and a quarterly advertising fee of not less than one percent of the prior quarter's gross revenues. The contract also requires the university to maintain liability insurance at a minimum limit of liability of $5 million per occurrence."
It gets better. On Nov. 6, The North Wind published another front page article, "University Defends Its Beans."
In it, Gavin Leach, NMU's Vice President for Finance and Administration, said that "NMU primarily views the Starbucks franchise as a way to offer access to a very popular, internationally recognized quality brand retail coffee outlet for our students. The university selected Starbucks because of its excellent reputation and quality product line and negotiated a fair price for those products to offer it as a choice for our students."
The kicker here is that by signing the secret agreement with Starbucks, the university didn't renew a coffee contract with another brand, Stone Creek Coffee. The students seem to want to have that option, as it was a much more affordable and, at least according to some students, a better-tasting coffee.
NMU student Justin Gunn said, "I just feel that it's wrong to pay that much to have Starbucks on campus when we could have Stone Creek for a lot less, and way better coffee. I don't think that Northern should be keeping these things secret from its students and they shouldn't be entering into these secret agreements, especially when the Starbucks CEO went to school here."
With this knowledge of Mr. Schultz being the CEO of Starbucks and a NMU alumni, I think it is logical to say that there is a connection here somehow. NMU has a famous, self-made billionaire alumnus, and that's something to make the university proud.
There is article upon article upon article gushing about Mr. Schultz and how he attended Northern Michigan on a football scholarship – that the scholarship was his ticket out of an upbringing well below the poverty level living in government housing in Brooklyn.
However, I couldn't find even one picture of Mr. Schultz in a NMU football uniform anywhere. I couldn't find any information on what position he played or how well he performed on the field.
But Robert F. Hartley, professor emeritus at Cleveland State University's College of Business Administration and author of the textbook Marketing Mistakes and Successes devoted an entire chapter of his textbook to the success of Starbucks. On page 29 he writes of Schultz, "Northern Michigan University offered him a football scholarship, and he was out of Brooklyn at last. But he couldn't make the team, and resorted to bartending and selling his blood to make ends meet."
Howard Schultz was an ever-struggling college student like the students who attend NMU today, except today's students are largely restricted to buying pricey Starbucks coffee on campus.
As an alumnus, what does he have to say to that? Perhaps The North Wind will get an answer.
Top image of Northern Michigan University Starbucks: meet.nmu.edu/dining/
Newspaper image: Gena Rinckey
RELATED ARTICLES
COMMENTS