We've moved! Come join us at
Watchdog Arena
, where you'll continue to find the same quality articles that expose waste, fraud and abuse as well as examine policy issues at all levels of government.
Please visit our new home and follow us on social media:
Facebook
&
Twitter
Sign up as a Citizen Journalist and get involved in Information Activism.
Sign Up for Watchdog Updates!
Dr. Jonathan Gruber, the Massachusetts Institute of Technology economist and Affordable Care Act consultant who became infamous for dubbing the American electorate as "stupid" and bragging that "lack of transparency is a huge political advantage" [with regards to the ACA becoming law], appeared before the House Committee on Oversight and Government Reform yesterday.
"Examining ObamaCare Transparency Failures" was the topic of the four-hour hearing during which Gruber was brutally grilled by the likes of Trey Gowdy and Darrell Issa.
Gruber's written testimony included this statement: "I would like to begin by apologizing sincerely for the offending comments that I made. In some cases I made uninformed and glib comments about the political process behind health care reform. I am not an expert on politics and my tone implied that I was, which is wrong. In other cases I simply made insulting and mean comments that are totally uncalled for in any situation."
Despite the groveling mea culpa, Gruber's controversial comments, discovered on video by citizen journalist Rich Weinstein, were also scrutinized by committee member Congressman Kerry Bentivolio, R-MI-11. Bentivolio is a reindeer rancher who impersonates Santa Claus during the Christmas season; he wasn't in the mood to be jovial with the New England economist.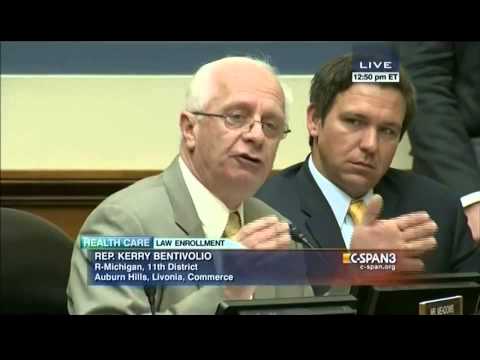 At one point, Bentivolio's exchange with Gruber went like this:
Bentivolio: "You did not apologize for helping the Administration deceive the American people on this health care act. Or for telling America the truth, in your video comments, about how it was a fraud upon the American people. Is that correct, sir?
Gruber: "I think the Affordable Care Act was passed in a highly transparent fashion with hundreds of hours of debate."
Bentivolio: "But every single thing they promised was a lie. How can you call that transparent?"
Ouch.
Top Image: YouTube screenshot
Small image: Washington Times
RELATED ARTICLES
COMMENTS