We've moved! Come join us at
Watchdog Arena
, where you'll continue to find the same quality articles that expose waste, fraud and abuse as well as examine policy issues at all levels of government.
Please visit our new home and follow us on social media:
Facebook
&
Twitter
Sign up as a Citizen Journalist and get involved in Information Activism.
Sign Up for Watchdog Updates!
Jon Tester took to the Senate floor this week to speak in favor of a bill that would have regulated political spending.  Many opponents of the legislation saw it as an assault on the First Amendment.  As George Will described it:
The Democrats' amendment says: "Congress and the states may regulate and set reasonable limits on the raising and spending of money by candidates and others to influence elections," and may "prohibit" corporations — including nonprofit issue-advocacy corporations (such as the Sierra Club, NARAL Pro-Choice America and thousands of others across the political spectrum) from spending any money "to influence elections," which is what most of them exist to do.

Because all limits will be set by incumbent legislators, the limits deemed "reasonable" will surely serve incumbents' interests. The lower the limits, the more valuable will be the myriad (and unregulated) advantages of officeholders.
Sen. Tester has a long track record on this issue.  He is fond of pitting "regular folks" against "big money interests," casting himself and others like him as fighting on behalf of those regular folks, and talking about the importance of compromise, working across the aisle, and of painting anyone who doesn't agree with his views in the crudest and broadest of strokes.
What he is not so fond of is taking an honest stock of his own commitments and his own big-money backers.  But he does like to pay lip service, and this week's speech was no exception:
Politicians … know that most of the money in political campaigns is on the extremes of the political spectrum…
He panned the opposition:
Supporters of the current system defend their views by citing the Constitution.
Tester fell barely short of actually mocking those concerns, but circled back at the close of the ten minute speech to say:
Look, amending the Constitution is not something we should take lightly. The Constitution is our founding document and it's held up under the test of time, but big money interests and defenders of Citizens United are distorting our First Amendment for their own gain.  Getting big money out of elections is critical to improving how we govern to make repsonsible decisions for all Americans.  It's critical to electing leaders who put people first.
As if no "regular folks" ever agree with any 'big money interests".   Worse, as if he stands in pristine and innocent islolation from the taint of big money.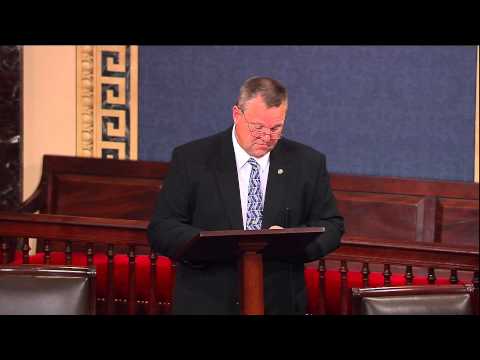 Media Trackers – Montana reported on Tester's hypocrisy back in June:
Sen. Tester appeared as a generational farming expert and personal witness to the facts on the ground in Montana. Responding to comments by U.S. Sen. Jeff Sessions (R-AL) about left-wing environmentalist billionaire Tom Steyer's plan to spend $100 million on the 2014 mid-term elections, Tester attempted to shore up his own election transparency credentials with a seemingly genuine call for more bipartisanship in limiting the influence of so-called "dark money" in American politics.

"I don't know Tom Steyer from a bar of soap, but I would be more than happy to work with anybody on the roster today, or anybody else, to put some transparency on the dark money that comes into these elections; and I know that this isn't a hearing about elections and dark money," Tester said.

"But, if we are going to save our democracy I think that is the first step, and I think we could really get to the bottom of a lot of this stuff that is going on as far as influence in political agendas here in Washington DC."
As noted more than a year ago by this writer:
One should not dismiss legitimate criticisms of exorbitant or deceptive political spending. One the other hand, it is always a failure to seek solutions to problems that do not ultimately address the root cause of those problems. The emphasis on the potential influence of dark money fails to address the simple fact that people are responsible for the votes they cast. It is a responsibility every voter ought to take seriously.

One Montana voter put it this way: "I voted for Rehberg, and he lost mainly because the Libertarian candidate siphoned off votes. And the libertarian got those votes because of adds run by someone wanting Tester to beat Rehberg. It was brilliant. Brutal and brilliant. I don't like that Tester won, or how he won, but he did and that's that. Blaming dark money is convenient and maybe it feels right, but it comes down to responsible voting. Tester won because the liberals understood more about Libertarians than conservatives did, and they used that knowledge. Like it or not, Tester won fair and square."

This Montanan seems to have struck upon something few do: that the underlying assumption in arguments against dark money is that voters are too gullible and too ignorant to protect themselves from predatory political operatives and organizations.

Voters are victims.

When the public is persuaded it needs politicians to protect it from the political process that generates politicians, something is very wrong. 
RELATED ARTICLES
COMMENTS