We've moved! Come join us at
Watchdog Arena
, where you'll continue to find the same quality articles that expose waste, fraud and abuse as well as examine policy issues at all levels of government.
Please visit our new home and follow us on social media:
Facebook
&
Twitter
Sign up as a Citizen Journalist and get involved in Information Activism.
Sign Up for Watchdog Updates!
The Culinary Union is taking a pause in its protests in front of the Cosmopolitan. Not only will this break save tourists from having to bear insults hurled by union protesters, it could save Clark County taxpayers tens of thousands of dollars as well.
According to the Alliance to Protect Nevada Jobs, Clark County taxpayers have been forced to foot the bill for maintaining a police presence at these at these protests.
The APNJ recently confirmed that the Culinary Union's weekly protests cost the taxpayer's on average $2,600 per protest.  At four protests per week this amounts to an estimated $10,400.  The union has had nine such protests since August 17th, costing Clark County taxpayers an estimated $93,600.  This figure is an average of seven to nine police officers per protest, many of which are paid overtime or pulled from regular police duty in order to chaperone union protests according to Metro Deputy Chief Marc Joseph.

"If these protests were to continue for a year, they would cost the taxpayers of Las Vegas over a half million dollars in estimated police costs," said Ron Futrell, spokesman for the Alliance to Protect Nevada Jobs (APNJ).  "The fact Clark County taxpayers are stuck with a bill just so union bosses can shout obscenities at tourists through a bullhorn is absolutely ridiculous.  Taxpayers and union members alike should be appalled by these figures.["]
These protests have made national headlines as the APNJ has released a series of videos displaying union representatives shouting insults at tourists entering the Cosmopolitan. The most recent video contains union representatives directing insults such as "beached whale", "fat pig", "piece of trash" and others at tourists entering the Cosmopolitan.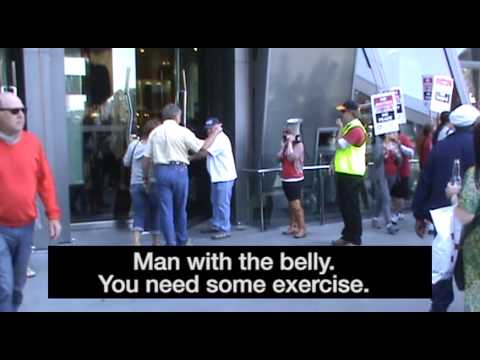 The Culinary Union plans to resume the protests, incurring even more costs for Clark County taxpayers and presumably insulting even more tourists, November 1.
"Cosmopolitan workers have fought for the last two years to have a contract," [Culinary Union political director Yvanna] Cancela said in an email. "Nothing is going to stop them from securing the Las Vegas dream, certainly not a few letters and leaflets. We're thankful for the attention that has been drawn to their struggle."
RELATED ARTICLES
COMMENTS