We've moved! Come join us at
Watchdog Arena
, where you'll continue to find the same quality articles that expose waste, fraud and abuse as well as examine policy issues at all levels of government.
Please visit our new home and follow us on social media:
Facebook
&
Twitter
Sign up as a Citizen Journalist and get involved in Information Activism.
Sign Up for Watchdog Updates!
Former San Antonio Telecommunications Manager John E. Foddrill, Sr., recently broke his self-imposed media blackout. He had imposed the blackout under advisement from his lawyers due to a pending federal court case. However, recent events made him realize he could not stay silent any longer. He has resumed providing interviews and documentation to the media hoping to shed some sunlight onto allegations of corruption at the city, county and state government levels.
Here is some background on how he went from loyal city employee to whistle-blower.
A corruption magnet called "The Variable"
The tale dates back to 1982. John Foddrill worked for the city of San Antonio as the city's Telecommunications Manager. He oversaw the IT department, the city's phone banks and the city's 911 services, among other duties.
At one time, he had 240 employees in the IT department, but only five personnel maintaining and working the phone banks for city officials including the mayor and the city council members. That portion of the department seemed to operate on a shoe-string budget, according to documentation and affidavits written by Foddrill.
STATE OF TEXAS, COUNTY OF BEXAR

Before me, the undersigned authority in and for the State and County aforesaid, on this day, personally appeared John Edward Foddrill Sr. being by me duly sworn upon his/her oath deposes and says:

This is a report of criminal activity – violations of law. In documents submitted to U.S. District Judge Xavier Rodriguez, Western District of Texas, 655 East Cesar Chavez Blvd- room G65, San Antonio TX 78206 on or about July 26, 2013 criminal acts committed by the law firm of Fitzpatrick & Kosanovich and their clients

Michael Bernard, William McManus and the City of San Antonio were reported to the Court.

1. Evidence submitted by the Plaintiff supports his report that the Defendants and their attorneys – Fitzpatrick & Kosanovich – have defrauded THIS Court by stating in recent documents submitted in THIS case that there is no conspiracy . ( see July 2, 2013 document, p2, paragraph 4 ) They defraud THIS court with their untrue statement "There was no perjury". ( see July 2, 2013 document, page 5 , note at bottom of page )

During a period of time beginning in 2005 San Antonio TX city attorney Michael Bernard and others conspired to conceal numerous violations of law – especially the theft and misuse of tens of millions of City, County, State and Federal funds over the past three decades. In February 2009 attorney Bernard and others defrauded the 57th District Court in an effort to hide the criminal activity (2006-CI-06702). When proof of the "fraud upon the court" and illegal cover-up was presented to law enforcement and public officials Bernard, McManus and the City of San Antonio TX in an effort to conceal the crimes issued an illegal, unconstitutional criminal trespass warning on July 1, 2009 barring entry into City Hall and public meetings. Evidence of the criminal activity was confiscated, police reports were discarded and everyone was sworn to secrecy.

When proof of the underlying criminal activity / illegal cover-up was presented to U. S. District Judge Xavier Rodriguez as the reason for the criminal trespass warning and other unconstitutional acts addressed in civil rights / freedom of speech federal lawsuit 5:13-CV-00051 ; Bernard, McManus, the City of San Antonio TX and the law firm of Fitzpatrick & Kosanovich submitted false statements to the Court in effort to conceal the crimes and have proof of the ongoing criminal conspiracy stricken from the record.

I ask that a criminal investigation be opened and that criminal charges be filed.

This statement is true and correct to the best of my recollection.
END OF STATEMENT
Back in 1982, the city set up a revolving fund for paying the phone bills for the city officials. By 2006, the fund was operating on $5.2 million annually, just for land-line phone calls. Foddrill began to dig and found there was no oversight or accountability with that fund. He alleges that the fund may have been used to finance other things such as no-bid contracts that had no public visibility.
Harassment and TOMA violation allegations
Since, Foddrill has attempted to see the suspicions investigated by authorities either within the city or through external means. Such attempts at integrity and transparency have been met with harassment. Foddrill set up meetings with officials, leaving copies of some of the evidence. For doing so, on July 1, 2009, he was served a warrant for criminal trespass (for going to city hall) and issued a restraining order keeping him from visiting City Hall or attending any city council meetings. By Texas law, the Texas Open Meetings Act (TOMA) in particular, city council meetings must be open to the public.
Then, on July 4, 2011, Foddrill, his wife and his neighbors were awoken at 10 p.m. by "Mental Health Police." There were allegation that Foddrill was "mentally disturbed and unstable." The police involved in the incident did file a report the next day stating they found no evidence to indicate any veracity of the initial report. However, without a proper warrant or just cause, they still harassed Foddrill, his wife and his neighbors.
In 2012, Michael Cuellar was also served a similar warrant and restraining order for looking into potential corruption by city officials. Cuellar served as the city's contract coordinator for the Fire Department and Emergency Response Teams (EMS). Cuellar sued and was eventually relieved of the warrant and ban. In April 2013, Foddrill received a letter saying his ban was temporarily lifted as well.
Where were the news reporters?
The story didn't receive much media coverage. One news outlet, The San Antonio Current, did file several stories revealing Foddrill's side of the case. However, when Elaine Wolff ceased working as an editor, the coverage ceased.
Texas Public Radio (TPR) did conduct these  interviews in January 2013.
Since, Foddrill has filed a civil rights violation case against the city. He's met with several stumbling blocks including an attempt to dismiss the case for it being past a 2-year statute of limitations. Foddrill was originally attempting to represent himself pro se, but was ordered to hire legal representation.
Through all of the hoopla, Fodrill has alleged that the San Antonio Express News has been less than sympathetic, supposedly printing only stories that favor the city's perspective and alleged cover-ups.
On social media sites such as Facebook, "new media" outlets have cast suspicions on the paper's alleged complicit role in the cover-up conspiracy:
Post by MySAPOLITICS.com.
San Antonio Express News employee emailed in.. we will keep her anonymous… She said that the Express News' Powers that be… decided with Julian Castro behind the scenes to keep his name out of the Centro Partnership Board Ethics Violation and from being subjected to ethics claims… to save the Pre-K for SA and for it to not be defeated due to bad press… and you tell us we make this up…
Requests for investigations stonewalled?
Meanwhile, Foddrill has sent copies of his evidence, affidavits and other documentation to several law enforcement and investigative officials outside of Bexar County and San Antonio. Among those officials are USAG Eric "Fast and Furious" Holder, who may have strong political ties to Mayor Castro and his twin U.S. Representative brother, U.S. Attorney Robert Pittman, James Comey – Director FBI, Sen. Ted Cruz, Attorney General Abbott and former San Antonio Councilperson Chan.
Citizens Against Public Corruption, Waste, Fraud and Abuse has also filed similar evidence attached to a letter to many of the same officials:
Citizens Against Public Corruption Waste Fraud and Abuse
9650 Limestone Pond San Antonio, TX 78254

Attorney General Eric H. Holder Jr.
U.S. Department of Justice
950 Pennsylvania Avenue, NW
Washington, DC 20530-0001

James Comey – Director FBI
J. Edgar Hoover Building
935 Pennsylvania Avenue, NW
Washington, D.C. 20535-0001

HUD-OIG – Inspector General David A. Montoya
U.S. Department of Housing and Urban Development
451 7th Street S.W.,
Washington, DC 20410

Texas Department of Public Safety
Austin, Texas 78773-0001

AUSA Erica Giese, Chief of San Antonio
United States Attorney's Office
601 NW Loop 410, Suite 600
San Antonio, Texas 78216
certified mail 7010 3090 0002 7075 1558

Attorney General Abbott
Office of the Attorney General
Austin, TX 78711-2548

This is a report of Criminal Activity – Violations of Law

Please find enclosed a sworn affidavit and a CD detailing the criminal acts committed by the law firm of Fitzpatrick & Kosanovich and their clients San Antonio TX city attorney Michael Bernard, SAPD Chief William McManus and the City of San Antonio (represented by Mayor Julian Castro) in an effort to defraud the Federal Judicial System and conceal massive long-term public/police corruption including the theft and misuse of tens of millions of City, County, State and Federal funds.

Documentation proving the fact that former City CIO Richard Varn, Texas Ranger Hank Whitman, Bexar County TX First Asst. DA Cliff Herberg, HUD-OIG agent Victoria Marquez, FBI agent D. True Brown and many others assisted the City and their attorneys in their criminal scheme is included in information submitted to US District Judge Xavier Rodriguez (see enclosed CD – "summary of nine files" serves as an index).

We ask for an open, transparent investigation and that criminal charges be filed asap. Thank you.
Open Carry Texas and other Second Amendment proponents are also seeking civil rights violation cases against San Antonio, Mayor Castro and SAPD Chief McManus for violations of First and Second Amendment protections and potential corruption charges.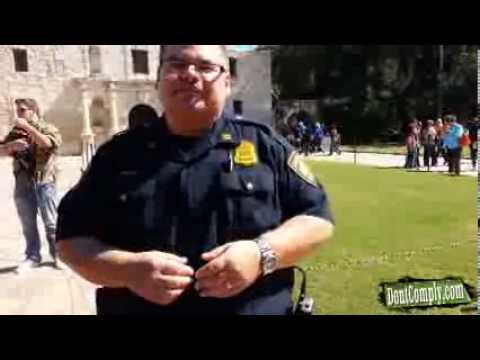 Categories:
Budget and Finance
,
Courts & Law
,
Elections
,
Government Transparency
,
Gun Rights
,
Must Read
,
News
,
Policy
,
Politics
,
Regulation
,
Video
,
Waste, Fraud and Abuse
Tags:
Bexar County
,
Chief McManus
,
City Corruption
,
government
,
John Foddrill
,
Mayor Castro
,
public corruption
,
San Antonio
,
San Antonio City Council
,
taxpayer
,
Texas
RELATED ARTICLES
COMMENTS